These last two days have been good sewing days for me. I enjoy closing off the world when I enter my sewing space, and entering a place of peacefulness, calm and serenity. There is a certain freedom in sewing that I truly appreciate!
Thank you so much for all of the kind comments regarding my daughter's ER incident. She is doing great, and her cheek is healing nicely. Most of all, I am glad to get back to normal life and normal things.
Speaking of normal things, I made sugar cookies with the kids today. Actually, they are baking as I write this post (I love to multi-task). When Christmas comes around I can't help but to bake! I usually bake cookies or some kind of treat every week (no kidding, ask my hubby). Our Christmas tree is already up, but I need to do some ornament editing = ). Does anyone else move ornaments around on the Christmas tree until they find that perfect spot?
These are the yummy cookies we are baking, though ours are star cutouts: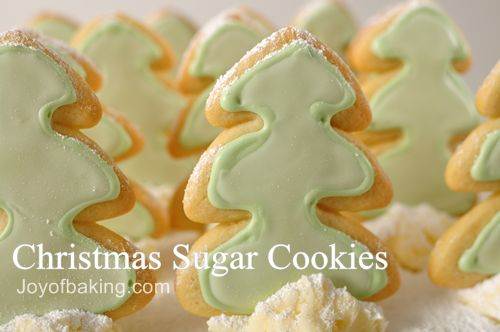 I am almost done with my son's PJ shirt I've been working on, will probably post that tomorrow, but I started thinking about sewing in general, and what certain tips have made my sewing experience
FAR, FAR
better.
I could think of a couple, but my absolute, most favorite is this one:
**Mark the wrong side of your fabric**.
Especially in cases where your fabric sides look the same, such as cotton interlock knit, take the time to mark the wrong side of your fabric. It is so extremely helpful, because then you do not have to wonder if you are constructing the garment correctly due to not remembering which side is which (and I do tend to forget). I like to mark my wrong sides with paper masking tape.
I just put a small dot of it on the wrong side of my garment where I know it won't get in the way. I never have problems getting the tape back off again, and paper tape is gentle enough for all the fabrics I've worked with.
Anyhow, you can use anything you want to mark the wrong sides of your fabric, it is just important that you mark them. Trust me!
So, that brings me to a question I wanted to ask all of YOU!
What is the best sewing tip you've ever received?
It could be as basic as mine, or more advanced. In essence, what sewing advice
really changed
your sewing life?
Stay sew-filled!