Hello again!
Happy August to everyone!! I hope your month has started out well! My August has been a little bit of good, and a little bit of bad. Let me start with the good: I have new clothing labels!!! I had been playing around with the idea of ordering some online, and was just about to commit to that, when I came across this post on
Jenna's blog
. In the post, Jenna shows off Simplicity 2219 and the coordinating clothing label she made. This piqued my interest, so I asked Jenny about what she used to make such a fabulous label, and her answer was cotton fabric sheets at Joann's, and her home printer.
When I found out that a nearby Joann's was selling the cotton fabric sheets for about 7.99 (don't forget you can use a coupon), I was excited to try out this new-found, cheaper alternative to buying clothing labels. I browsed Joann's, and decided on purchasing the sheets that you can attach to clothing by ironing them on. Here is what they look like: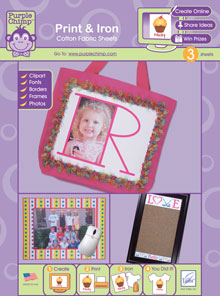 The packet contains 3 two-sided fabric sheets. One side has a woven texture, the other has a shiny, laminate-looking texture. I got on my computer and came up with a design for my labels on Microsoft Word, using a template for address labels. I then printed a test page to make sure I had everything aligned so that the labels would come out printed correctly. Then I took the plunge, and printed my labels on the fabric sheets, making sure it came out on the woven side.

Here is what it looked like at that point:
And here is a close-up of the design I came up with:
I have actually had a name for my label for a while now, but it was awesome to see this label go from a concept in my mind to a physical representation of all that I had thought about. To explain the name a little, the two words are a play on the word "sweetness." The "Ness" is short for Vanessa (that's me). All throughout my life, my closest friends have called me Nessa, but the latest thing has been to shorten that even further to "Ness." My middle name is Rose (after my Aunt Rose), so hence, the rose element. And most people who meet me tend to describe me as sweet, or nice. So it all works together to describe the very essence of who I am!
With that said, I took my finished label (make sure you allow the ink to dry for 30 min.) and roughly cut it out with scissors. I then cleaned up the edges with my rotary cutter, and ironed it on my NL6034 shirt.
It all came together easily, and I am SOO excited to start putting these on all the clothes I make! Since there are 30 labels per sheet, I will have 89 more labels for future items, and I only paid around $6 for the package! I think I will probably stitch a border around my labels like
Jenna
does on hers. It just adds a nice touch, and looks more professional. But I left it off here because I didn't want the stitching to show thru on the back band. I'll have to see how this one holds up. Thanks Jenna for the awesome idea!
To change the subject a bit, and discuss the downside of this month, I spent all of last week sewing NL6034 pants (jeggings), but the results were not good. I should have made a muslin of these pants for sure because the fit was so stinkin' off! I thought I could baste the seams, try it on, and adjust as necessary, and that worked--for a little while.
I noticed that the fit in the thighs and legs is tighter than the fit around the knees. So the leggings look great everywhere except there! I
literally
have rolls of excess fabric around the front and back of my knees. This is not a good look. I am still hanging on to them in case anyone has any good input at to how I could fix this. I am thinking of playing with the length of the garment to see if that would help, but I am not spending any more time on this right now. I am moving on, lest I NEVER finish my Tim Gunn Sew-Along!! If I find a better legging pattern, I'll try that instead!
I'm not sure what my next project will be quite yet. I think I am having commitment issues for the first time in my life! I'd love to make shorts for my son, finish my daughter's dress, and make a cute top for myself, but which one first? I guess you'll have to see what I decide...
P.S.--At least I have a label!!
Stay sew-filled!