Hello everyone, and Happy August!
I am back today to share a top I recently tested with Itch to Stitch. It is called the Spirren Tank, and as soon as I saw the line drawing details I knew I wanted to give it a go. Also, with the weather hovering in the mid to high 90s I thought this would be a nice piece to pull out in the heat.
Here are the some of the details: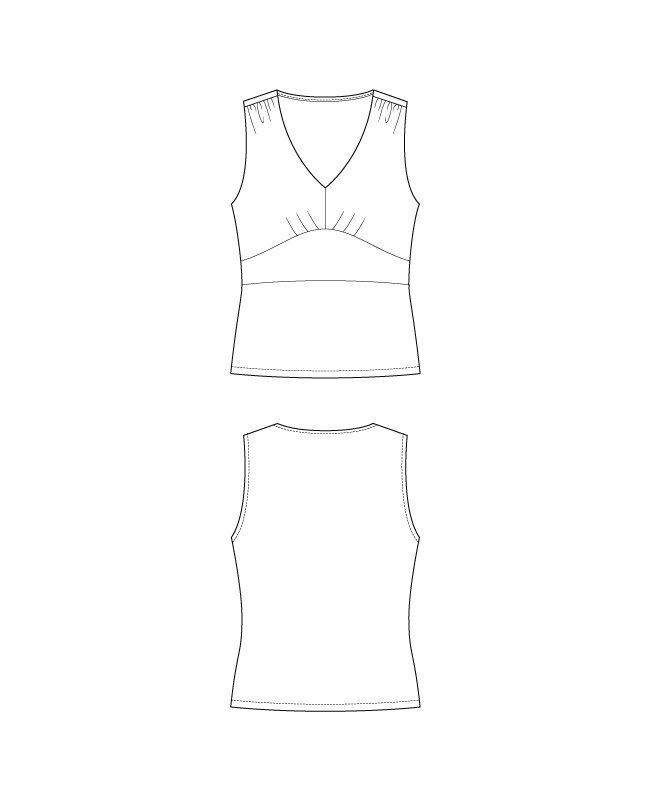 This is a knit tank (woo hoo) so the options are for a regular or full bust. It is partially lined in the top front, with a curved V-neck, gathers at the shoulders, and pleats under the bust. It is a fitted garment with fabric recommendations of cotton spandex, spandex jersey, and interlock (fabrics with 50% horizontal/vertical stretch). I pulled out an animal print poly or rayon spandex from my stash and used it for my version:
I absolutely love how it came out! This is a FITTED garment, with negative ease according to the size charts, and I made a size 2 blended to a 4. Really, the only place I graded was along the bottom portion of the front and back bodice. That is usually the place that has added width for me too.
The details are harder to see with this print, but they are so lovely! The pleats add a gentle curve on the bust, while the gathers are slight (at least mine were).
The neckline for the front and back pieces are applied via bindings:
The finish is very clean, and lays nicely with understitching. I used fusible interfacing for various portions of the armholes, and front neckline per instructions. This is not a normal practice for me, yet I liked how it came together.
Front
Front Lining
Top constructed except for curved front and bottom front
Overall, I highly recommend this top! If you are an advanced beginner, and familiar with working with knits you can definitely make this one. Keep in mind that the slinkier knits can be more finicky to work with, yet if you take your time, go slowly, and use pins/basting then you will be fine. As soon as I finished this tank, I couldn't wait to put it on, and ended up wearing it to an outing with my Bestie. I hope to make more!
This week through August 11, 2021, you can purchase the Spirren pattern for an additional 20% off. You may visit here to check it out.

To check out other tester versions of this top, please see here. There were so many great versions, and so much inspiration for a wonderful Summer staple.
I will be back to share some of my Summer sewing progress with you. Hint, hint, it was only one item, but I will try to rebound with my Fall plans, lol!
Stay sew-filled!